MUSIC & ARTS
Helping people and places encounter Jesus through art and music.
The Music & Arts Ministry at Church at the Cross is a collective of song-writers, painters, filmmakers, photographers, designers, textile, and other visual artists striving to make great art in community with one another. We desire to be artists and creatives who are theologically formed, artistically enriched, relationally driven, and enthusiastically imaginative.
Email Pastor of Music & Arts, Joseph Tenney, with any questions on how to get involved.
GIFTS OF THE SPIRIT EXHIBITION
In 1 Corinthians 12:7, the Apostle Paul wrote, "To each is given the manifestation of the Spirit for the common good." Through the Holy Spirit, we are given various gifts that, when exercised, reveal the heart of God and manifest his presence in this world. Our vision as a community is to help people and places encounter Jesus. And as a Jesus-centered people empowered by the Holy Spirit, as we exercise our gifts with those around us, God's light and goodness and beauty and truth shine into the darkness.

We invited our people to take a spiritual gift (any single string), tie it to one of the cross's nails, and stretch it out attaching the other end to one of the unused wooden pins. Our hope was that this simple gesture would recall to mind the transformative nature of the gift God has given each of us to steward. As God's people manifest his Spirit, the story of the cross and resurrection bursts out into the world bringing life and freedom.
2017 ART EXHIBITIONS
ADVENT EXHIBITION
The season of Advent, a season of waiting, is designed to cultivate our awareness of God's actions - past, present, and future. It's where we hear the prophecies of the Messiah's coming as addressed to us — people who wait for the second coming.
In Advent we heighten our anticipation for the ultimate fulfillment of all Old Testament promises, when the wolf will lie down with the lamb, death will be swallowed up, and every tear will be wiped away. In this way, Advent highlights for us the larger story of God's redemptive plan.
And yet, a deliberate tension should be built into our practice of the Advent season - Christ has come, and yet not all things have reached completion. While we remember Israel's waiting and hoping, and while we give thanks for Christ's birth, we also anticipate his second coming at the end of time. Thus, a tension between celebrating/hoping and longing/waiting.
We took a digital approach to this exhibition, utilizing digital photography in a square ratio. We then suspended the polaroids above the viewer to try to provide an enveloped and engaging experience.
Mandy Rogers is an abstract artist from East Texas who now resides in the city of Dallas. She works mostly in acrylic, while sometimes utilizing oil and watercolor. This particular series is about suffering. However, she didn't want to tell a story of suffering without telling a story about hope - to ensure that hope shined through in the midst of pain and suffering. She writes about her experience in creating these pieces, "I kept coming back to mountains and blue hues and the way light comes into them. I wanted to capture that feeling just before the light comes in, that hope, but also the heaviness and weightiness. Hope can often feel heavy and difficult to grasp onto, and it can be easier to hold onto your doubt or hurt. I wanted to let the viewer know that hope can be hard to grasp, but it is here and it is coming. That's why you see the white sweeping down in the paintings."
Learn more about Mandy Rogers and view her artwork at mandyrogers.art.
Also follow her on Instagram - @mandyrogersart
We have coupled our CATC gallery with the liturgical year, providing us with a constant rehearsal of the life story to which all Christians find their lives conformed. After all, it is through rehearsal that we come to experience the mystery of which Paul testifies: "it is no longer I who live, but it is Christ who lives in me." (Gal 2.20)
Historically, Pentecost is one of the great feasts of Christianity and it commemorates not only the descent of the Holy Spirit upon the Apostles and Disciples, but also the fruits and effects of that event - the completion of the work of redemption, the fullness of grace for the Church and its children, and the gift of faith for all nations. In the Christian liturgical year it became a feast commemorating what is described by some Christians as the "Birthday of the Church".
It is celebrated 50 days from Easter Sunday, counting Easter Sunday itself, 49 days or 7 weeks after Easter Sunday. Therefore it always occurs on a Sunday. So we're looking at June 4th.
Artists were asked to consider these texts as they prepared -
Luke 22:12–13 and Acts of the Apostles 2:1–31.
We asked artists to consider the themes of new life, new birth and joy.
Some works might explore the idea of resurrection itself, while others may consider what joy might entail, visually. Some pieces might communicate a personal exploration of experiencing joy out of chaos, finding new life born out of a former circumstance.
Our hope is that as this exhibition explores the transformative idea of resurrection and renewal, we will experience afresh the glory of the resurrection of Jesus, and the ways in which we've been brought out of the ashes of death's grip through the radiance of God's glory.
2016 ART EXHIBITIONS
ALIVE TOGETHER EXHIBITION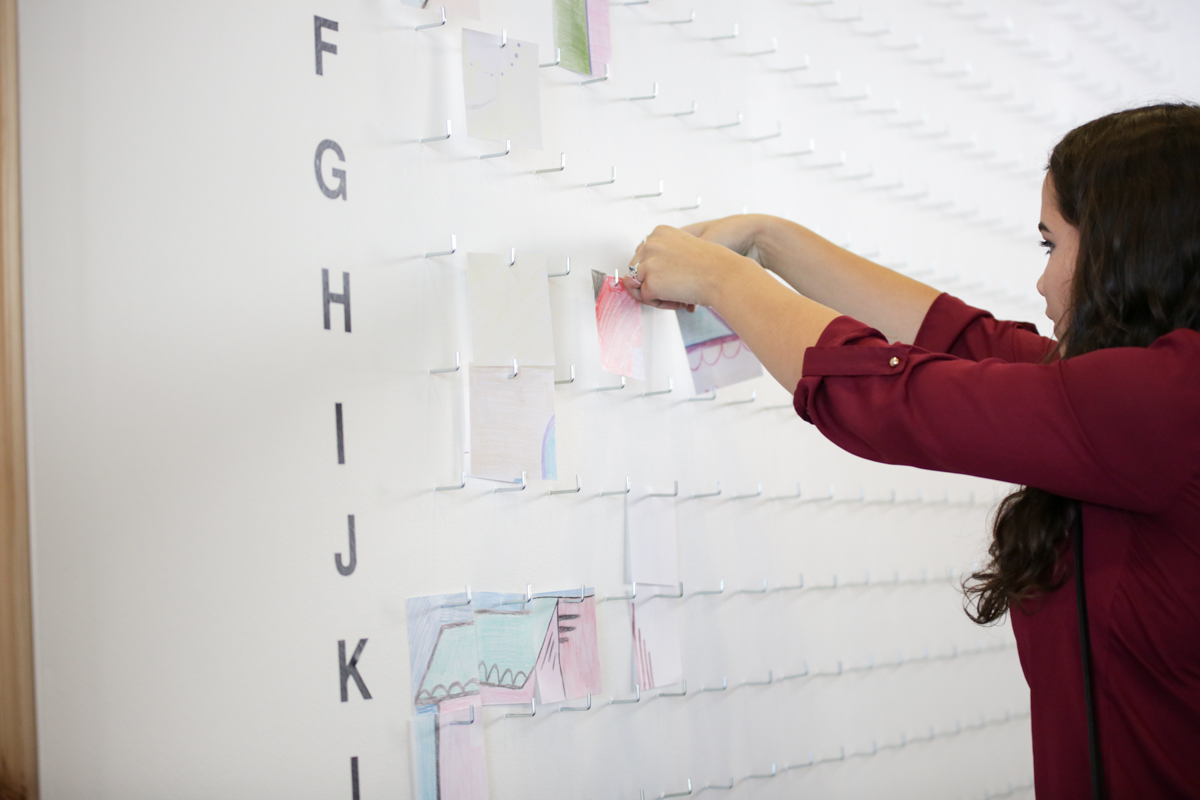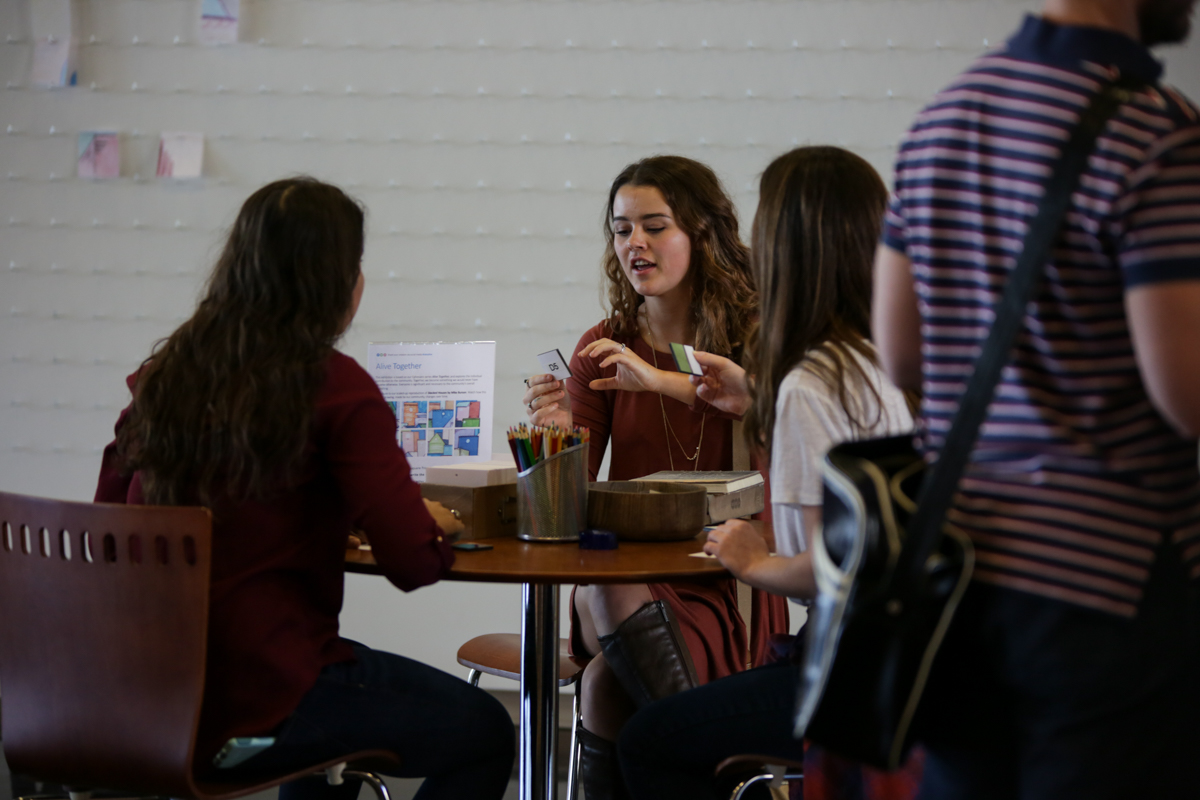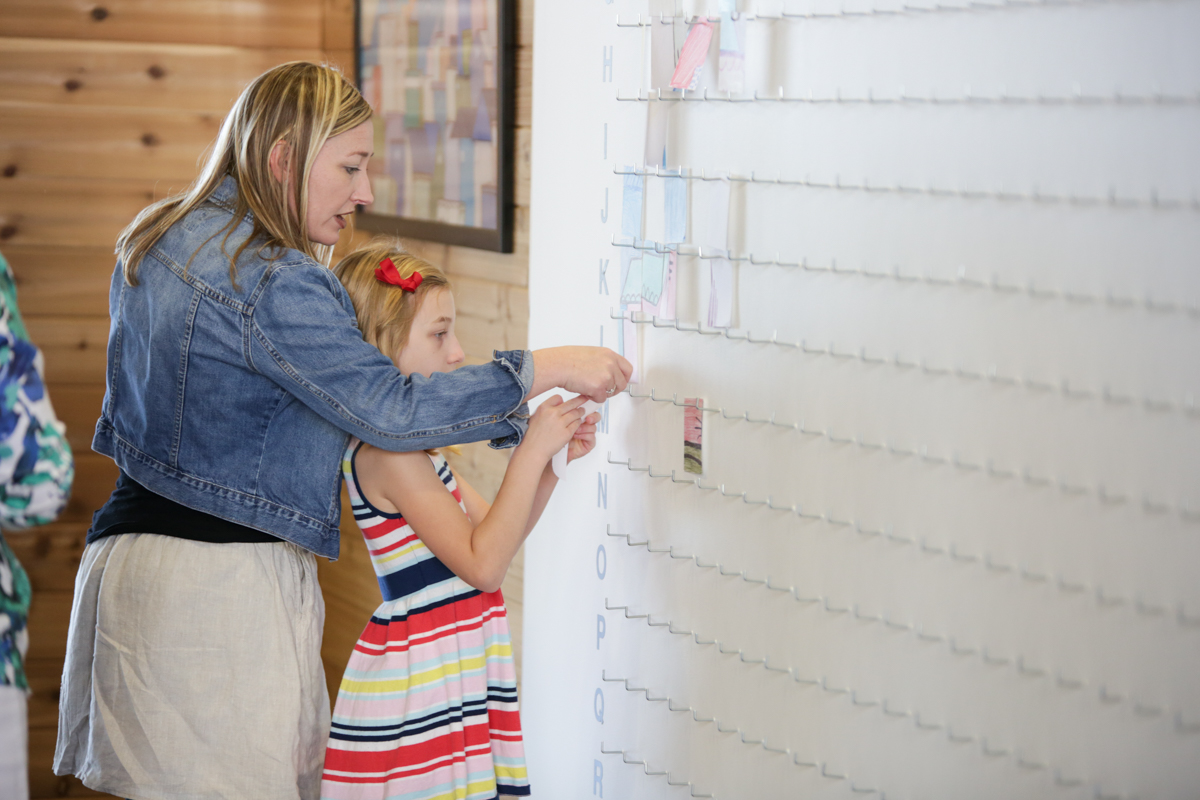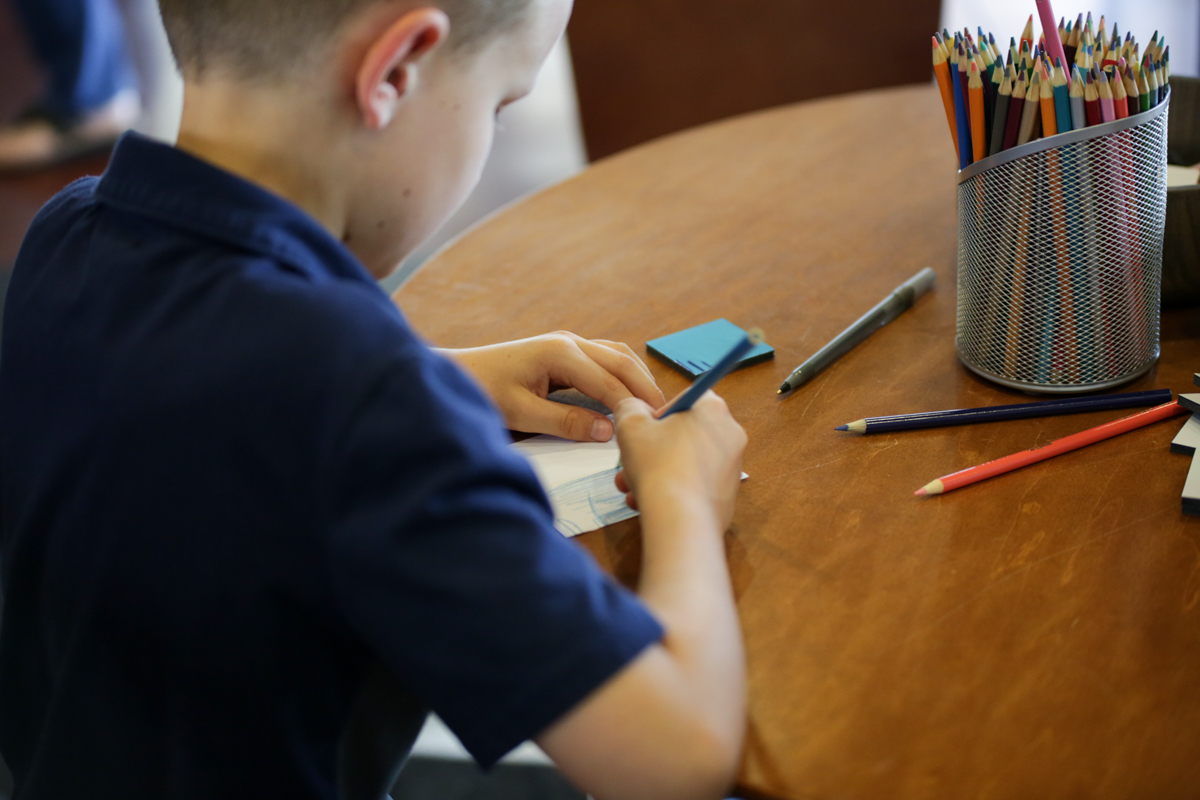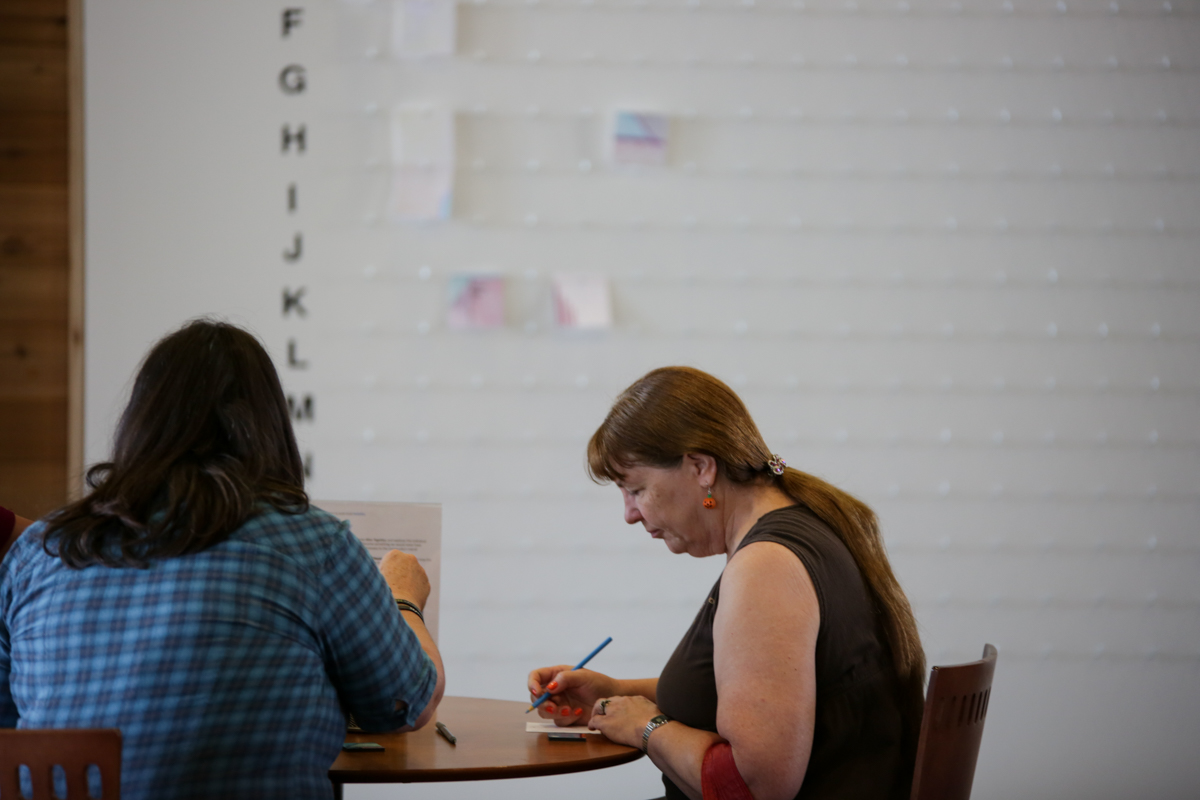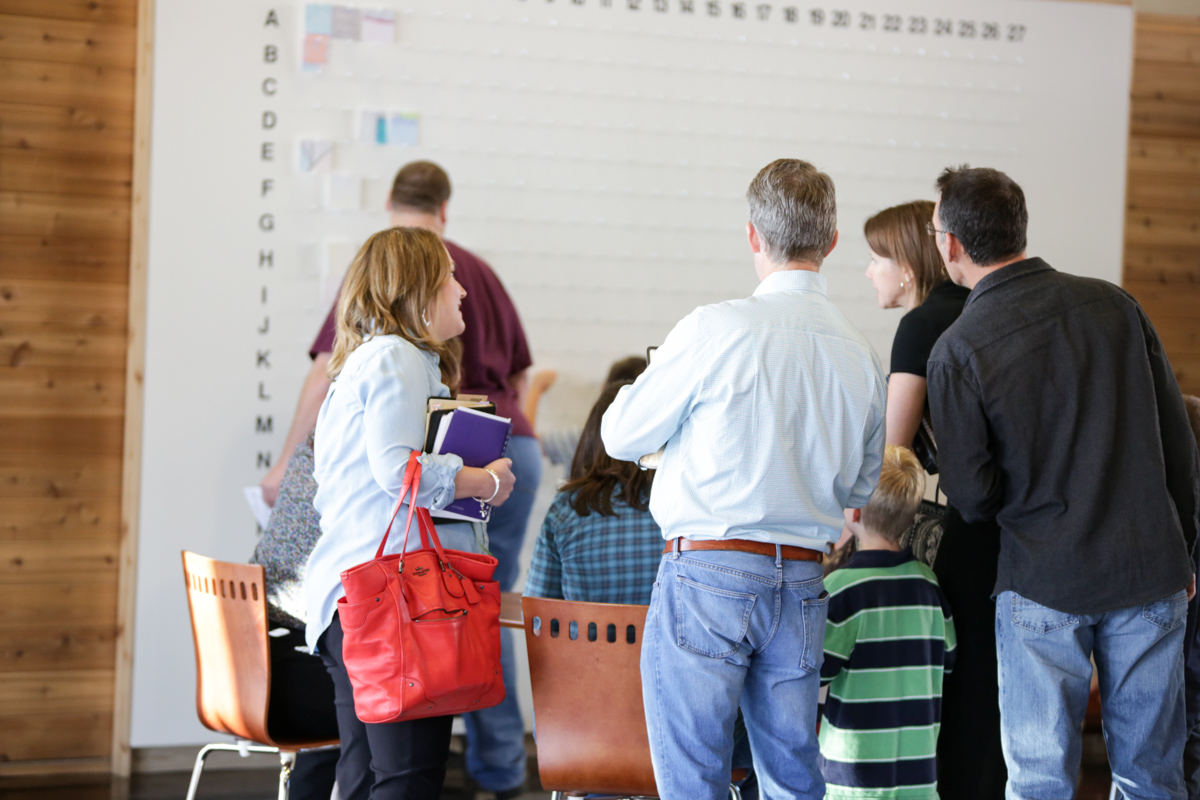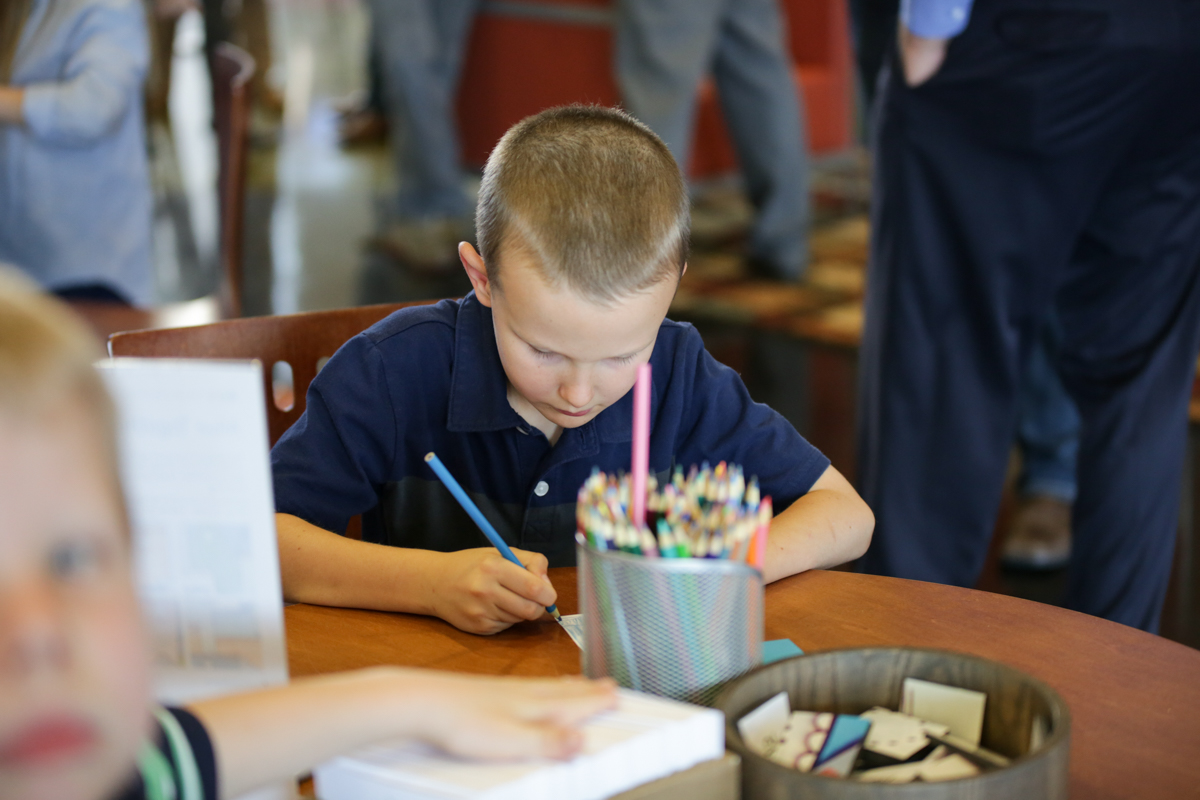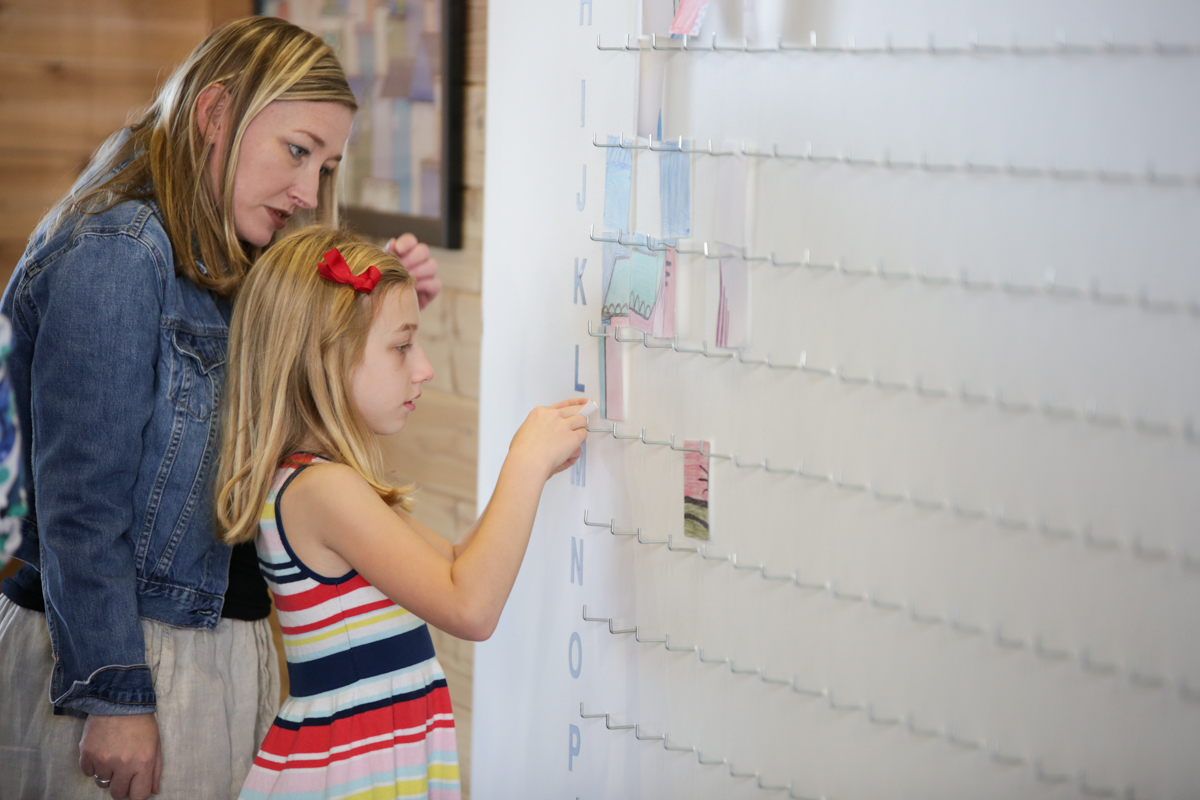 This exhibition was based on our Ephesians series Alive Together, and explored the individual contribution to the community. Together, we become something we would never have become otherwise. Everyone is significant and necessary to the community's overall flourishing.

Our community was invited to contribute to our scaled-up reproduction of "Stacked Houses" by Mike Burson. Watch how this "living" drawing, made by our community, changes over time.

Instructions
1. Choose a small image square from the basket.
2. Take a blank card and write the coordinates on one side.
3. Draw your section on the other side of the card. (hole at top of card)
4. Return the small image square to the basket.
5. Hang your drawing on the grid using the coordinates.
ANATOMY OF THE SOUL EXHIBITION
In his preface to the Psalter, John Calvin referred to the book of Psalms as, "An Anatomy of All the Parts of the Soul". He believed you could not find an emotion expressed in the world that was not present within the Psalms - grief, sorrow, fear, doubt, hope, care, perplexity, wonder. Calvin believed that by perusing the Psalmist's compositions, we would be both awakened to our own maladies as well as instructed to seek the remedy for their cure.
This curated exhibition invited the artist to peruse these compositions and submit work that explores this broad range of human experience. Calvin understood the soul not as a fixed muscle in stasis, but a multifaceted complex organ emanating a spectrum of emotions and heartfelt expressions. This exhibition sought to portray work that addresses the range of these expressions and complexities of experience found throughout the Psalms.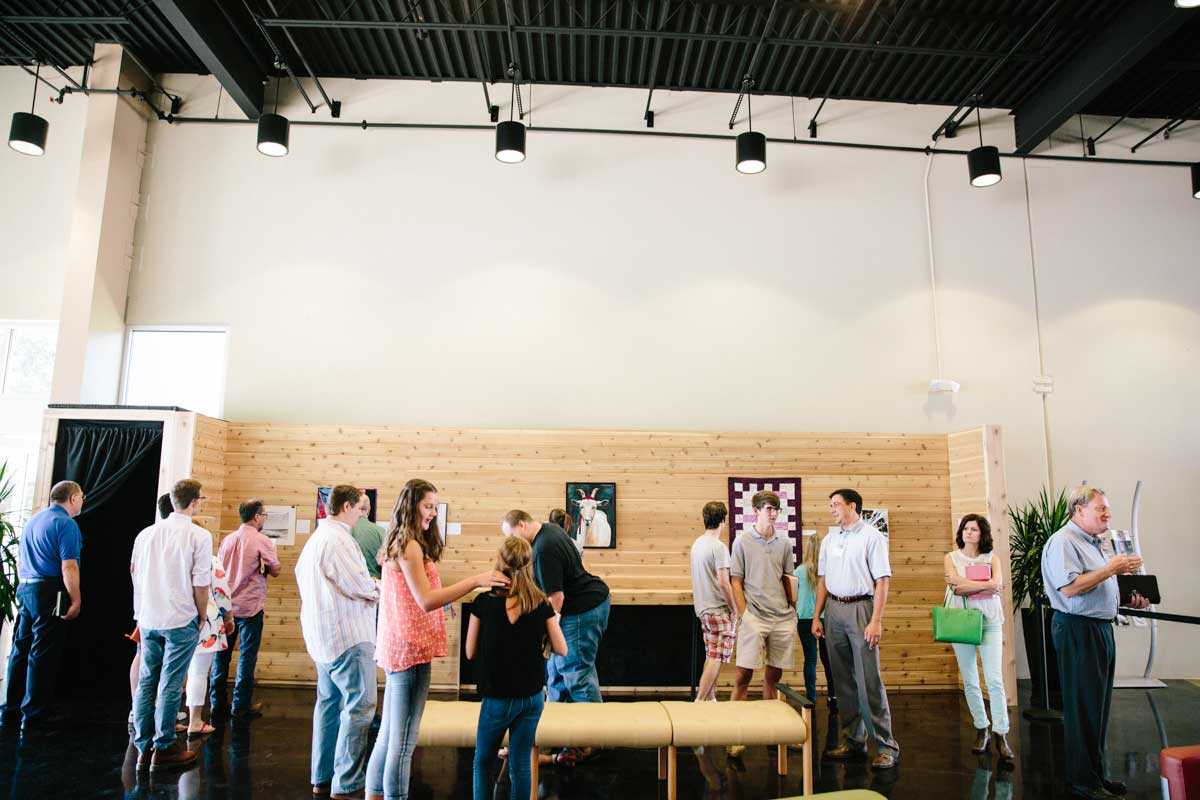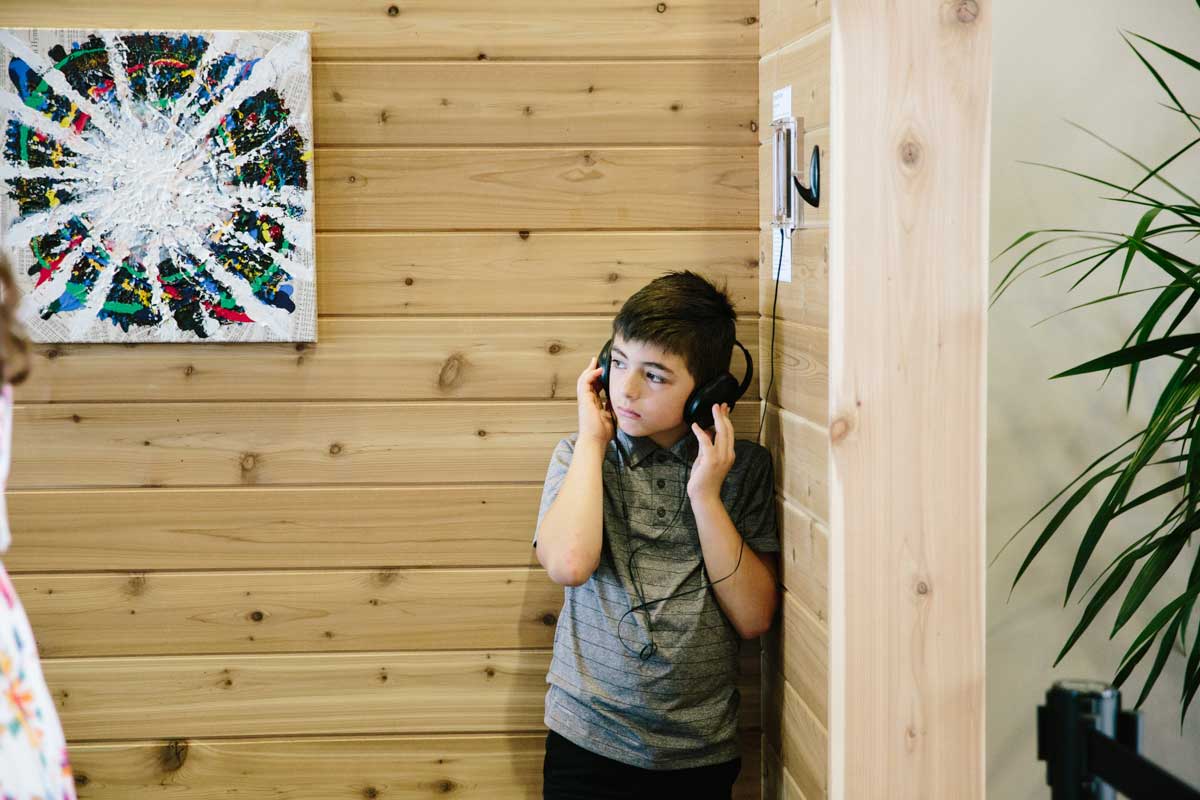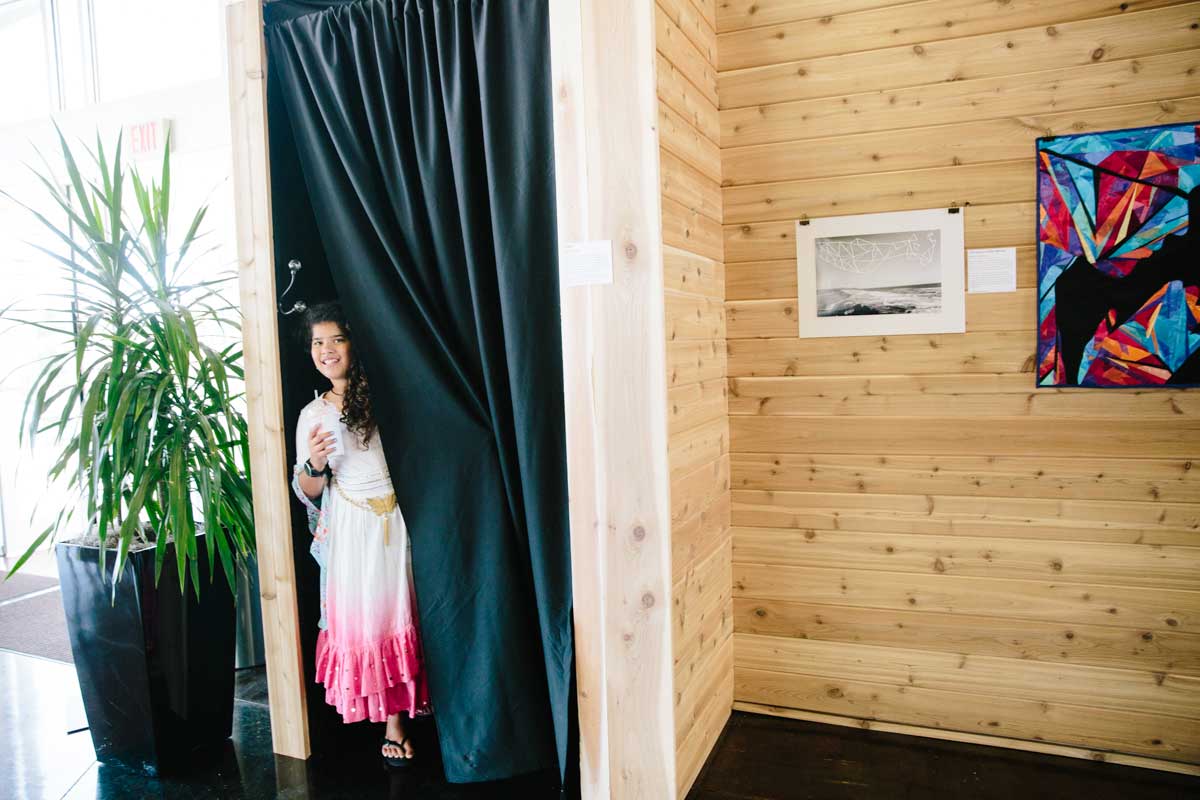 In Jesus' final moments on the cross, he uttered 7 sayings:
- "Father, forgive them, for they do not know what they do." Luke 23:34
- "Truly, I say to you, today you will be with me in Paradise." Luke 23:43
- "Woman, this is your son." Then he said to the disciple: "This is your mother." John 19:26-27
- "My God, my God, why have you forsaken me?" Matthew 27:46 and Mark 15:34
- "I thirst." John 19:28
- "It is finished" John 19:29-30
- "Father, into your hands I commend my spirit." Luke 23:46

This exhibition considered Jesus' final moments, those six hours he spent hanging on the cross. The artist was invited to consider - what did Jesus experience? What sorts of emotions and thoughts might these final seven sayings have produced in him? Surely, these six hours were filled with the full spectrum of passion, a broad range of emotions. The artist was invited to illuminate Jesus' experience, deepen our consideration of these sayings, slow us down to contemplate these glorious and horrific hours of time.

Submission Deadline: Sunday, March 13
Exhibition: Palm Sunday (March 20th) through Easter Sunday (March 31st)

2015 ART EXHIBITIONS
ADVENT EXHIBITION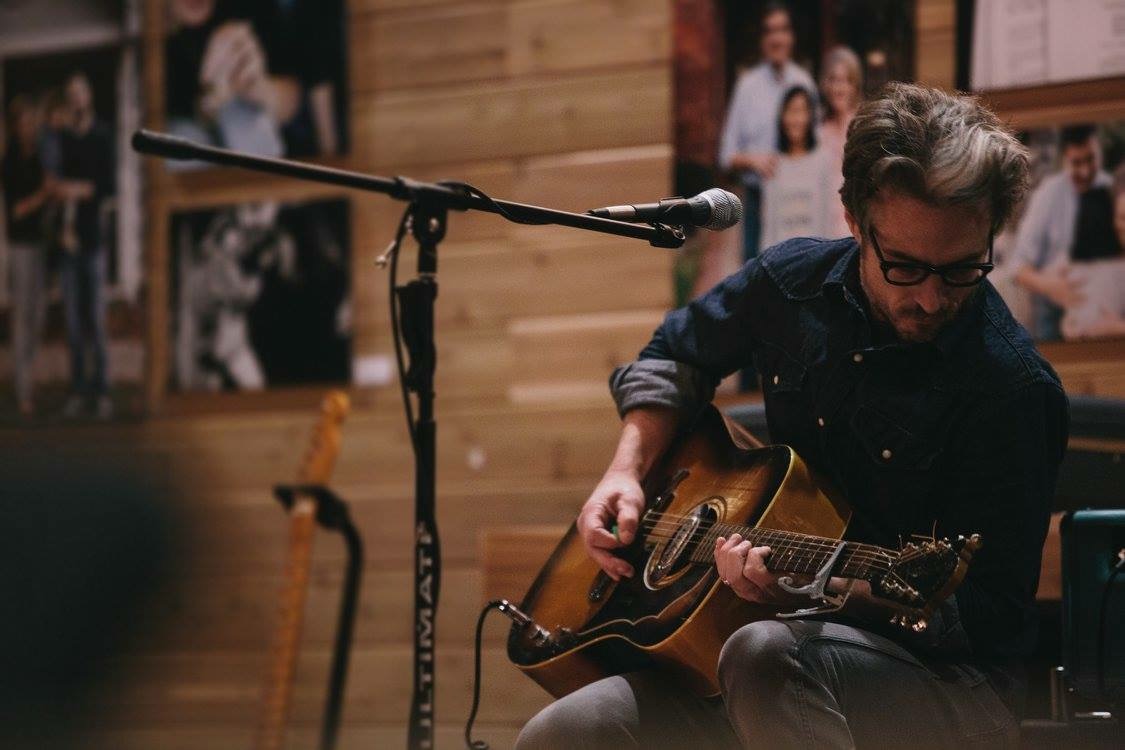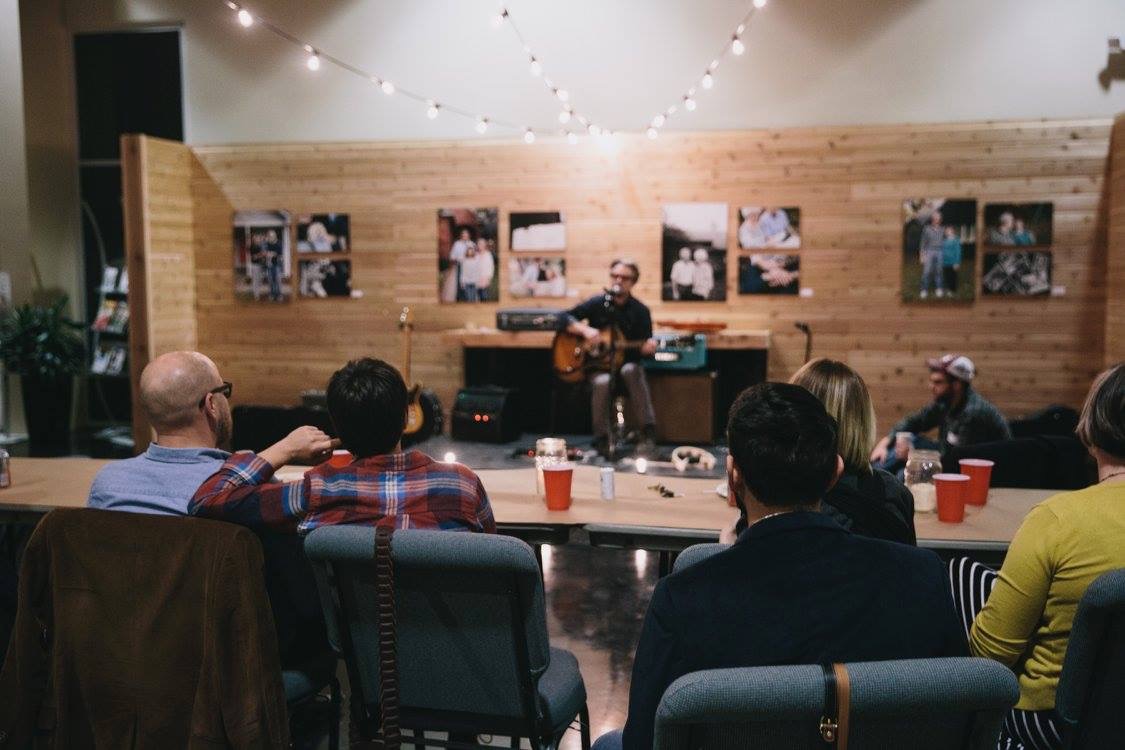 For this year's Advent season, we utilized still photography to capture four stories from various families in our community. Since the Advent season includes the four Sundays preceding Christmas, we shared one story each week on video leading up to Christmas. We decided we wanted each story to enhanced a theological truth (love or joy or peace, etc), rather than a mere rundown of their story. The script for each story, however, concluded by tying in a portion of each reader's own story into the larger narrative. We then pointed people to the gallery for the fuller experience and fuller story where you could actually pick up a copy and read along.
We created four quadrants on the gallery wall that displayed each story in detail - both visually and textually:

love
joy
peace
hope
C.S. Lewis observed that we need help from each another to truly and fully see the mystery, the beauty, or the terror of the world. Our eyes need to be disciplined to see the world rightly and we utterly need to proclaim the Word of God in ways that actively expose and resist both the idols that we are tempted to worship instead of God and also the idols of our distorted understandings of God. We believe because art is concerned with communication - communicating an idea through a gesture of some kind - that artists possess a particular way of helping us see rightly.

On June 28th, 2015, we invited artists to submit creative work that was accentuated or inspired or informed by our eight-week sermon series called, "Idol Factory." This series included:

• the idol of power (control/anger)
• the idol of people (fear of man)
• the idol of success (work, money, possessions)
• the idol of pleasure (sex, sloth)
• the idol of religion (self-righteousness)
• keeping ourselves in the love of God
• idolatry and the 4 G's

We called on artists to offer and discipline their various gifts so God's people might acknowledge their own idol-making through the visual art presented, testify to the goodness of God, offer thanks and express repentance of our own idol-making.

The goal of this gallery was to present good creative work that disciplines our eyes to see the world around us and ourselves a bit clearer, that through beholding these various gifts, our hearts and minds might be directed to the good and true radiance of God's glory (Heb 1:3).

We encouraged any medium at all and asked that all final submissions be in by July 24, 2015 to be considered.